"I'm a perfectionist in life, so I want to do everything on the highest possible level."
Szczecin is much closer to Hamburg than Munich and Vienna; not only geographically, but also as old harbour and Hanseatic city. And it is only a stone's throw away from Berlin.
In autumn 2015, after the renovation of the famous castle, the local opera house, the Opera na Za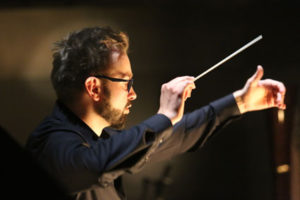 mku* returned to its traditional place. The advantages of this theatre are not only the marvellous location or the harmonious blend of old and new in its renewed home, but the development to an inspired programme without fear to go new artistic ways and an excellent ensemble in the orchestra pit as well as on stage.
Seen in this way, it is quite surprising, that Szczecin's opera house is still an insider tip on our side of the border.
Jerzy Wołosiuk is the current Artistic Director of the Opera na Zamku. He is one key driver of the interesting artistic development of the theatre within the last years.
His way to a musical career was clear from an early age, he tells. "My mother was a pianist, but not on the professional level. She finished high school on the piano but then studied musical education. She educated students in music at university. My father is also a conductor but in Orthodox Church music. He's self-educated but he is one of the most important people in this music in Poland. I was close to the music all the time. My parents played these black discs. It was natural for me to grow up with music. I am a cellist; I finished high school on the cello. Now I spend all my time with music. I feel that it the conducting is my way. It is something that is inside, a decision from heart."
Next to conducting and playing cello the piano plays a great role in his life because as he says much of his knowledge of music he achieved from his piano teacher Teresa Rosłoń-Esztenyi.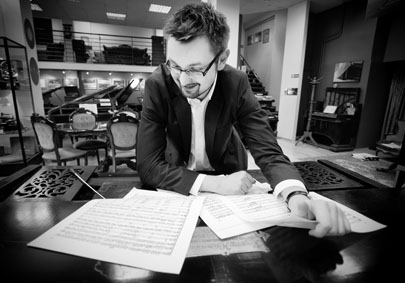 "I'm a conductor to create something", he explains his motives. Sometimes he conducts symphonic concerts but his true passion belongs to the musical theatre. "It's because of music and theatre, how this work together." A view that reflects not only in his work as conductor, but also in his administrative work.
Jerzy Wołosiuk graduated from Frederic Chopin Academy of Music in 2005 and became assistant conductor at Opera Nova in Bydgoszcz where he conducted more than 200 operas, ballets, operettas and musical performances. Since 2013 he has worked in Szczecin first as musical director and now as artistic director. He took over in a time that was a bit stormy for Opera na Zamku and brought after a lot of changes in different positions stability to the house. "It's good for the artists, it's good for the audience to have some strategy."
Reading his biography and doing some calculations, one is surprised how straight and certain these concepts already are. "I'm quite young and feel young but I've worked in theatre for ten years and I was always interested in all things. We are a small theatre but I think it's our power to make a very integrated team." Despite the higher workload compared to a much bigger theatre with more staff, he enjoys the creative atmosphere at the Opera na Zamku which allows experiments like the current highly acclaimed Britten-production "The Turn of the Screw". He enjoys the kind of artistic freedom that comes with his position but it is very important to him to take the audience and his colleagues with him on this journey.
But no art without money. The financial structure of theatres budgets in Poland is similar to the German system. The theatres are supported by the government of the voivodeships (provinces) but have to earn the large part of the budget by selling tickets. "We have an almost full audience on all the shows. It is very good work of the marketing department and it's much better than three years before." Another reason for that is in Wołosiuk's opinion that they are back in the castle. Some people refuse to go the Hala Opery, the temporary home during the renovation because "they don't want to go to a tent; they want to go to a theatre".
"We want to catch and take a kind of new audience to the theatre and show to them that musical theatre can be fresh and not only some old fat lady who sings a coloratura aria. I think theatre can give people emotions and some kind of actuality."
This way of thinking leads to productions like "The Turn of the Screw", "we didn't want to make something completely different, because it is the first staging in Poland. We tried to do this fresh and modern, but like the composer and the librettist meant it. It's quite balanced and I am very happy with this show."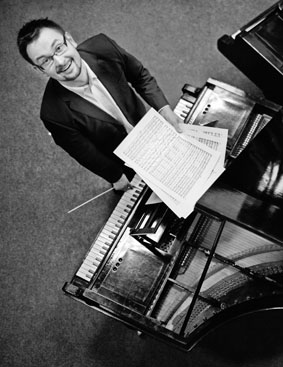 More productions in this style are contemplated. The cooperation with Theater Vorpommern will go on. Usually there are concerts for the opening of the season from Szczecin e.g. in Stralsund and vice versa. This year it will be beside other pieces Bruckner's 7th symphony They do productions together like "Lohengrin" in the past and next season "Tannhäuser" or a show called "Rock'n' Ballet" during the open air festival in Vorpommern and in Teatr Letni, the summer theatre in Szczecin. Further cooperation with the Center for Contemporary Opera in New York and a festival for modern music in Munich are planned.
To attract more tourist and visitors from the neighbour country, the opera is thinking about additional surtitles and booklets as well as promotional material in German. Part of this strategy is also to extend the cooperation with different tour operators from Poland and Germany.
Jerzy Wołosiuk radiates enthusiasm and pride about his team both on stage and behind the scenes. No one who meets him will doubt that he is the right man at the right time for the Opera na Zamku.
We are looking forward to many more interesting performances and productions in Szczecin.
MK + AHS (July 2016)
* Opera na Zamku = Opera in the Castle
Photos: M. Grotowski © Opera na Zamku (4c), Marek Hofman (b/w)