Tanz der Vampire was the musical my little sister was mad about and my best friend liked quite a lot. So, why not give it finally a try when it returned to Hamburg? And wait a minute – what a gorgeous music, what a fantastic, clever production, what a great cast… And who the hell is this guy with the mesmerizing baritone voice and this perfect characterisation of Count Krolock?!
This guy is Jan Kříž. In Cologne, the next station of the current Tanz der Vampire tour, just before his last performance as Count Krolock, he was so kind to talk with me about musicals, operas, and his career in both genres.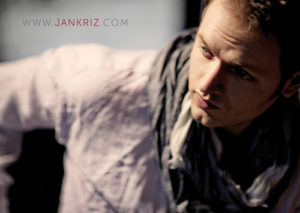 Jan Kříž is a successful actor. In the Czech Republic, his native country, he is well known for appearing in many different musical productions, varying from original Czech productions to internationally known shows like Grease, Sugar (Some like it hot), Saturday Night Fever and Rocky.
He won the Ceny Thálie, the Czech theatre award Thalia, twice – in 2012 for his interpretation of Danny in Grease and in 2015 for his performance in Děti ráje (Children of paradise). And after venturing the step to leave his native country and to face the uncertain by performing in another country, his fanbase in Germany has grown with every performance of Tanz der Vampire.
With both his parents working in theatre, it wasn't surprising that he came up with the idea of a stage career. "I was born in theatre" he tells and adds, "Every time when you need kids on stage in municipal theatre, it's normal to take kids from people of the theatre. Until I was fifteen, I did a lot of this kids' staff on stage."
"I was never really thinking about other professions than to be in the theatre. Because I was in this world. When you are born in the theatre, you have two possibilities – run far away or do just that. It's simple. I always wanted to be an actor."
He wanted to go to a drama school, but due to their knowledge of the profession, his parents weren't willing to let him go this way. "But one of my theatre uncles told me: if the stage wants me, I will find a way – with school or without school. And it's true. Especially at the opera, there are a lot of people, who are from different professions simply because stage will find people. It's magic."
But he also admits that his parents were right. "It's true, there are a lot of unsuccessful people in theatre. It's sad." He explains that there are a lot of acting schools in the Czech Republic. The need for new actors wouldn't match the high number of people who graduate from these schools every year. "The problem is that when you don't have a job as an actor, you can basically teach acting, but that's all you can do after these schools. It's school for nothing, if you are not an actor."
So, Jan Kříž attended a high school for toy design and finished his education for set design in Prague. During his studies, he did some performances, not only in theatre productions, but also in musicals.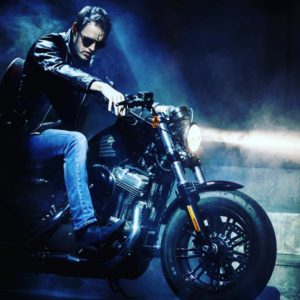 His first professional show was The Jungle Book in 2007. "I never knew musical before. My father was from opera, my mother from drama and somewhere in the middle I found my way." Not the usual way for musical actors as he found out. "My colleagues are fans of musical. They loved it as kids. So, they wanted to do it. It wasn't so in my case. It was just that I loved the stage and at some point, musical found me."
At the beginning, performing in musicals was his hobby, because his professional focus was on set design. This changed after three or four years. "Now I do set design as hobby and I am a professional musical actor."
In set design, however, he has been equally successful with various operettas and ballets as well as opera productions including The Flying Dutchman, The Abduction from the Seraglio and of two of his favourite operas Rigoletto and La Bohème. More recently he developed the scenery for Orpheus in the Underworld and for Noc na Karlštejně (Night at Karlštejn), a musical comedy about emperor Charles IV, in which he currently also performs together with his wife, the actress Marie Křížová.
After five years of his musical career, the singer decided to participate in the TV casting show Robin Hood – Cesta ke slávě (Robin Hood – The Road to Glory). "I wanted to do this show. It was Robin Hood; a new musical and I wanted this role. The only way to get it was through casting on TV. So, I said, okay I will try. And I won it. It was very good, was intensive." This contest, in some ways comparable to American Idol, but with higher demands on the contestants, was conducted only once in Czech TV so far. "Every week you had to do a musical number in the concrete voice range, you could choose. It was with dancing and everything. It was very intensive, very hard, but it was cool and a good experience."
His popularity at home doesn't come from this TV show only. "Musical is very popular in the Czech Republic. We have a lot of musicals." He explains that when one would be doing musical on high level in his country, he or she would easily become known due to the popularity of the genre.
Despite the success, in 2017 Jan Kříž decided to tread new paths. It was not easy, he tells, but after a visit of Rocky in Hamburg and the collaboration with stage director Christopher Drewitz for the Rocky production in Prague in 2016, he chose to give an audition in Germany a try and was accepted as Cover for Count Krolock. "It was a lot of coincidences and it was a hard decision for me to do it, because I needed to cancel a lot of things in Prague." Back then, he was playing in ten or eleven musicals at the same time.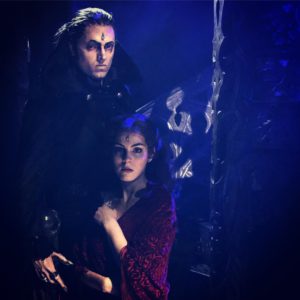 He doesn't stop to praise the theatres at home, who supported him and his decision to go to Germany for a year although all happened very quickly in the end." I had a week to figure it out with my wife, if I would go for a cover position to Germany, to risk losing one season in Prague, in my country, and to figure it out with all the shows how to do it" he recalls. "It wasn't an easy decision. Everybody in Prague was really amazing. The producers helped me to do it somehow, to figure out how to do it."
In the end, all worked out and the decision was made on purpose. "I wanted the experience how it is in long running musical here, in this type of a big show, how it is to play in a different language."
The foreign language was a challenge, but one he mastered as quickly as successfully. "You need to know what you are singing and how to sound as good as you can; not like a German, but like a person using this language." He explains that on the first level, he needed to improve his English, because English is the working language in the Stage team. In addition, he worked on his phonetics in German. At this stage, his goal was the level that the audience knew what he was singing even with his accent. "After that I tried to get my accent away as good as possible."
Despite the feedback by the audience that the Count suits his accent well, Jan Kříž is determined to further improve his skills in the German language. "I don't want to learn German or work on my accent because of Krolock. I wanted to play Krolock one year. Some people told me not to lose your accent, to keep your accent for this role. That's true, but it's not my point." He thinks that it is a very hard balance from having an accent to having people trust one to know the language.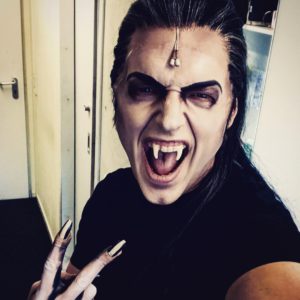 "The point on stage for me is now that people trust me that I am used use that language, that I am absolutely understand what I am singing and trust me that I am fluent in this language." In further improving his German however, he strikes a new path by asking his fans to support him via Skype sessions.
Currently, there are no concrete plans to return to Germany. "I like the situation that it's now open." Nevertheless, there are some new possibilities already. "But, of course, I have a career in Prague and I like my career in Prague. I am on a good position." He sees roles there, which he still can't see in Germany because of his accent and since he is basically unknown in Germany. "I try to see the situation as plus, a bonus, not that I need to decide in which country I want to work in future" he explains before he adds, "I definitely like this country. I like the way how you are doing musicals."
He admits that he doesn't have any dream roles. "I have such a luck for roles. I did so many great roles" he enthuses. "I am a very lucky set designer and a super lucky musical actor."
So, what's next? "I will do a new show in Prague. I will do a new show in a municipal theatre in Czech Republic." He is in talks about a new opportunity in Germany, which would be very interesting for him. Information about upcoming events is available his Czech website www.jankriz.com or on the German version www.jankriz.de. In addition, Jan Kříž runs his own Instagram account @jankriz_official.
If he won't return to German shores so fast, no problem, Prague is always worth a trip. Whoever likes musical, shouldn't miss this great mixture of a magnificent voice and sophisticated acting.
AHS (July 2018)